Origami Crane Mini crane keepsakes / Custom Crane / Wedding Cake top / New! Crane Earrings
Casting resin made
Over years, many people asking sugar origami crane for their special occasion or as a gift item. Unfortunately shipping is one of the biggest problem that they receive it broken... Nobody wants to see this happen at the last moment just before the wedding, etc This is why Max started using casting resin for Origami Crane. It is not edible but has many advantages over sugar crane that can not be overlooked.
from left: Mini crane keepsakes, Custom crane, Wedding Cake Top, and Crane Earrings
1. Brakeproof: It is durable and does not break during long distance shipping, as well as shatterproof. 2. Light weight: It also saves you shipping cost. 3. Superior water clear clarity: It appeares as if it is made of clear colored glass, far better thatn that made of sugar. 4. Permanent: It lasts as long as you keep, excellent for event memorabilia. 5. More color choices: Currently 12 color selections you can choose from therefore more original crane you can make. Sugar crane has 6 colors. 6. Refinement: It shows fine details much better than sugar.
We offer you 4 styles of Cranes you can choose from.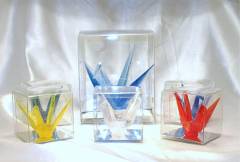 Mini crane keepsakes: Mini crane is almost half the size of statinary crane (in the back). It is an excellent idea for keepsakes for your special event.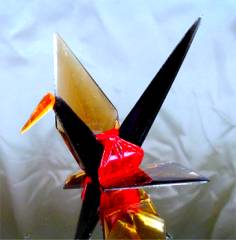 Custom crane: A large size crane is great for gifts, as well as a table top accent, paper weight, etc.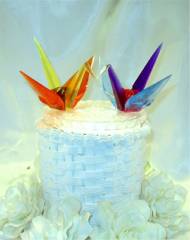 Wedding cake top: Each crane represents the Bride & Groom. Custom cranes for the Bride and Groom will be paired together on an attractive round base, then placed on top the wedding cake. See more detail about this, go further down to the title "Wedding cake top" below.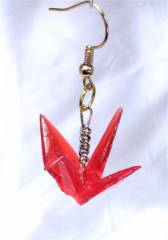 Crane Earrings: These tiny origami cranes are known for peace, prosperity, and good luck, perfect for your gift item. They are made of water clear casting resin, appearances of crystal glass.
Mini crane keepsakes
They are small but have so many meanings for your special day.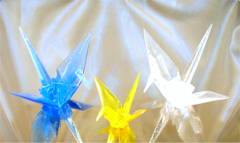 Mini crane (yellow) between Custom cranes
To speread joy, wellness, & fortune among your guests who came to celebrate your special day, Origami Crane is the one of best idea as keepsakes.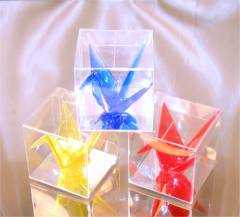 Presented in a clear gift box Box size 2" x 2" x 2"
You can choose one color for entire portions of the crane to match theme color of the event. There are 12 color choices: 1. Red 2. Pink 3. Purple 4. Blue 5. Light blue 6. Green 7. Lime green 8. Yellow 9. Orange 10. Brown 11. Black 12. Clear.
Mini crane keepsakes: $4.95 each in a clear gift box. *Minimum order of 12. inquiry/order
Custom crane
It is custom made by your color selections. No one crane are the same. Your's only.
----- Colors & Color Chart for Custom crane & Wedding cake top -----
To customize your original Crane, let us know your color selections. There are 12 color choices: 1. Red 2. Pink 3. Purple 4. Blue 5. Light blue 6. Green 7. Lime green 8. Yellow 9. Orange 10. Brown 11. Black 12. Clear. Using 12 different colors that will yield over 248.000 possible color combinations of a completed crane - this means there is no identical crane of the same color choices - yours only ! Use this chart for easy color selecting.
Example of the crane shown above: Body: Clear Wings: Red Tail: Blue Neck: Yellow Head: Light blue and chart will be like this below.
| | | | | | | |
| --- | --- | --- | --- | --- | --- | --- |
| | Meanings | Body | Wings | Tail | Neck | Head |
| 1. Red | Passion, Love, Fortune | | x | | | |
| 2. Pink | Tenderness, Happiness | | | | | |
| 3. Purple | Royalty, Nobility, Elegance | | | | | |
| 4. Blue | Mind, Spirituality, Faith | | | x | | |
| 5. Light Blue | Relaxation, Wisdom, Patience | | | | | x |
| 6. Green | Harmony, Healing, Growith | | | | | |
| 7. Lime Green | Finding Balance, Nature | | | | | |
| 8. Yellow | Friendships, Freedom, Joy | | | | x | |
| 9. Orange | Energy, Creativity, Enthusiasm | | | | | |
| 10. Brown | Trust, Stability of business/home | | | | | |
| 11. Black | Success of Career/Finance | | | | | |
| 12. Clear | Innocence, Purity, Honesty | x | | | | |
Start from Body column, choose one color from 1 to 12. Repeat this for the rest of colums.

Meanigs of colors: Each color has meanings that bas been used in Asia for centuries. These are just brief & simple listings in chart above. You can create you own Crane according to meanings of colors so that you can send messages to your someone special through your Crane! Black & Brown Crane for your Business success & stability, Green & Blue Crane for Wellness of mind & body, Red & Purple Crane for your loved one. Of course, you can make your Crane by artistic color choice of visual appealing/beauty.

----- How to order a Custom Crane -----

1. Choose colors. There are 12 colors available as you see above chart. Each crane is made of 5 parts: 1. Body 2. Wings 3. Tail 4. Neck 5. Head. Select one color for each part of the crane.

2. E-mail your request !

Your crane is all handmade, then placed in an attractive clear gift box. We take order from one crane,

Custom Origami Crane: $14.95 each inquiry/order

Wedding Cake Top

You choose the color, we put it together for your special day.

You and your guest can enjoy the beauty of the crane for years to come. As you see in photos below, each crane remarkably looks like as if it is made of crystal-glass/stained glass. It is water clear with colorful prismatic reflections.

The Crane is the most renowned, and majestic bird in Japan. Many designs associated with cranes will appear when celebrations & festival events are held, most notably Weddings. You can see them portrayed in artworks such as in kimonos, handbags, invitation cards, napkins, shoji paper screens & even interior designs of wedding halls itself, etc.

It is an excellent idea to have an Origami Crane Wedding cake top for your special day. Cranes are believed to be the symbol of Honor & loyalty because they mate for life and they are extremely loyal & faithful to each other.

We customize each crane for the Bride and Groom just the way each of them would like to have it made. As yor see in photos above, each crane represents the Bride & Groom, and they will be paired together on an attractive round base. They are placed in an angled position so that their head & wing tips (representing mind & body) are touched together for eternity.

The diameter of the round base is 5" and will fit on most wedding cakes. Traditionally the wedding cake top is kept and displayed with other wedding related items as event memorabilia for long to remember. They are made of cast resin, hard glasslike material, break/shatter proof and last for a long time without losing clarity of its beautiful colors.

Origami Cranes are excellent way to celebrate your wedding.

There are choice of 2 kinds of base for Wedding Cake Top, Clear base / white meddallion.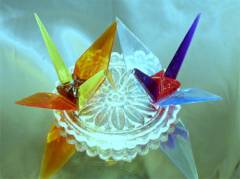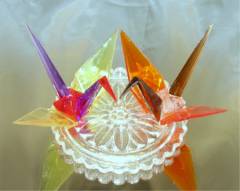 Clear base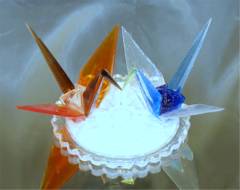 White medallion in middle
Wedding cake top: Clear $49.95 ea White medallion $59.95 ea inquiry/order
Origami Crane Earings -- Free shipping --
A perfect present for her!
These hand made Crane Earrings are made of casting resin. They are durable, breakproof, yet very light weight. Unlike paper/clay-made, our crane earrings reflect & shine when light pass through them, just like crystal glass.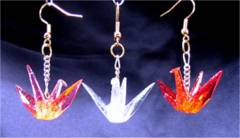 Crane Earrings: transparent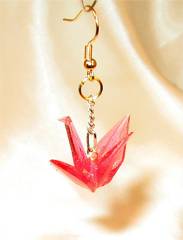 Pink crane earring: view from back
Size: 0.75 inch high x 1.25 inch wingspan
These beautiful crane earrings are perfect accessories for any Western clothing and especially on your Japanese clothes such as kimono. It is an great idea wearing an eye catching crane earrings when you are attending at Asian theme events.
Each crane is attractively attached with chains and French hook. Your chice of Pink, Clear, or Red. Any other color you are looking for? please feel free to email your request.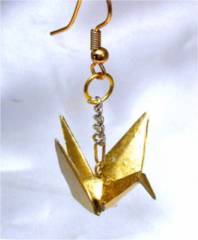 Crane Earring in gold color
If you prefer antique/classic style to trasparent one, there are gold/silver colored crane earrings are available as shown above. Each earring is hand painted with patina gold (or silver) for an aging apperance then applied with a lamiante.
Origami Crane Earrings: Pink, Clear, Red $24.95 pair Gold/Silver Patina $29.95 pair
We offer this item for Free shipping (U.S. only) inquiry/order
------------------------------------------------------------------------------------------------------
SUGARWORKS, LLC Copyright © 2006, 2007 All rights reserved. Mon-Fri 9:00 am -5:00 pm