Chile Peppers Candies / Floating Candles
---- Party favors & Keepsakes ----
Do these look familiar? Yes, they are candies.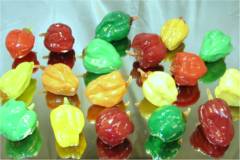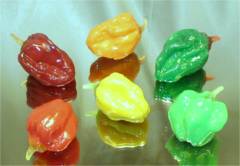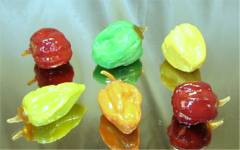 Chile Peppers: various colors/shapes. They are "Habanero" variety, one of the most hot chile peppers you can find at market.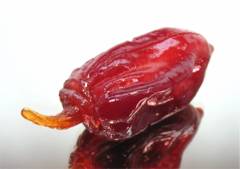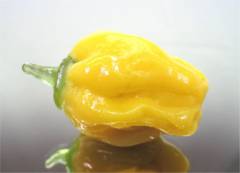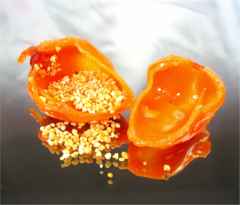 Seeds: tiny caramel rice crispy
Realistic pepper shaped candy filled with Hot Croquant - caramel coated tiny rice crispy spiced with chile powder - just like seeds in a pepper. Spice up your sweet tooth !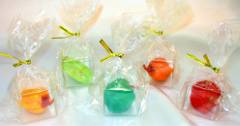 In a gift box: Box size, 1 5/8" h x 1 5/8" w x 1 5/8" d.
Appearances of Chile pepper candies are remarkably similar to the real thing. They are great conversation piece, surprising gift, & party favors for chile pepper lovers, etc. These stunning pieces are sure to surprise anyone with an eye for hot & spicy.
Chile pepper: $3.45 each inquiry/order
---- Chile Pepper - Floating Candles ----
Do these look familiar? Yes, they are candles.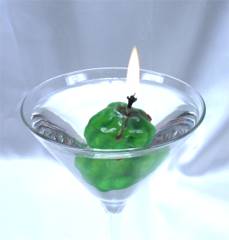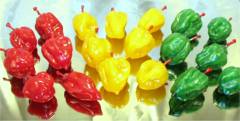 Floating Candles left: in a cocktail glass

Your favorite Chile peppers are now available as floating candles ! It is a wonderful way to spend an evening with your someone special under pepper candle light, having hot chile pepper dinner !

They literally give you real heat to the touch, yet in a very romantic way. These are excellent as table decorations without lighting, but as an added bonus, they also float as Floating Candles.

These gorgeous Chile pepper floating candles make delightful & surprising gifts for Hot Chile Pepper lovers & enthusiasts. Each wonderfully shaped pepper candle is remarkably similar to the real chile pepper in size, shape, & color. They are hand painted several times to give off deep rich pepper colors.

You'll get real heat ! Too hot to handle !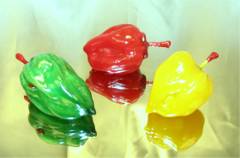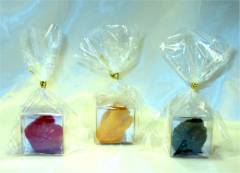 in a gift box Box size, 1 5/8" h x 1 5/8" w x 1 5/8" d.
Hold & lift the stem of the pepper candle, and place it gently in a cup filled with water, it will float on top then ight the stem of the pepper. Burn time: 1/2 -1 hours.
Caution: Never burn Floating candle without in water. Burn candle within sight, never unattended while burning. Keep out of reach of children and pets. Never burn on or near anything that can catch fire. Use only metal or glass containers to retain water.
Chile pepper floating candle: $3.45 each inquiry/order
---- Chile Pepper Magazine & others ----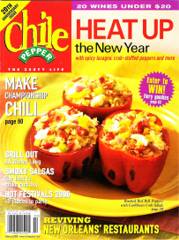 Our "Chile Pepper Candies" are introduced in the Chile Pepper Magazine: February 2006 issue, as one of the Hot Commodity with others. It says "Chile Peper Candies Use these gorgeous handmade cadny chiles as elegant cake toppers or set them out with coffee for a sugar blast. The candymaker even puts grains of puffed rice inside to simulate seeds." Please grab the issue and check it out !
Here is an article found in GO Brooklyn, September 23, 2006 Issue ( www.go-brooklyn.com ) " If your idea of nirvana is art you can eat, then Max Kitano of Sugarworks is your man. Kitano will be demonstrating the art of heating sugar and melding it into edible sculptures. For the celebration, he'll concentrate on one form - the chile peppere, of course."
----- Coming event & Past event ----
* We will be Chile Pepper Festival at Brooklyn Botanic Garden, September 30th Sunday 2007. You can purchase our realistic Chile Pepper Candy & Chile Pepper Floating Candles at special discout price! There will be live music & dance, cooking demo, etc, many more! so do not miss this exciting event! Come and enjoy!
"Chile Pepper Fiesta" 2007, 2006, 2005, 2004, 2003, 2002. We were very delighted to join Chile Pepper Fiesta www.bbg.org and many thanks for those who stopped by us! At our demonstration, you see how each chile pepper candy is filled with seeds like spicy rice crispy. In addition, you can purchase "Chile pepper candies" with special discout price during demonstration hours. These realistic/life like candies are great for gifts & conversation piece !
*Among customers are children at Chile Pepper Fiesta, therefore "chile pepper candies" are spiced very mild.
----------------------------------------------------
SUGARWORKS, LLC Copyright © 2006, 2007 All rights reserved. Mon-Fri 9:00 am -5:00 pm