Baby Shower Rubber Duckie cake top / Rubber duckie rattle
--- Rubber Duckie ----
Cupcake top / Cake decoration
You might not remember playing with Rubber Dukies in bath tab when you were baby but certainly it is one of the most familiar baby toys everybody familar with.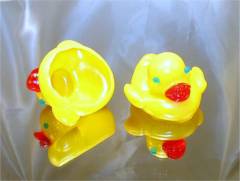 Cup cake top / Cake decoration Size: 2.5"W x 2.5"L x 2"H
A picture shown above is sugar made Rubber Duckie. It is remarkably the same appearance of the real one until you mention that it is candy. It is hollow inside and ideal for decorating cup cakes and birthday cakes.
Rattle
If you would like to present them as keepsakes, here is a Rubber Duckie Rattle. There are sugar crystals inside the duckie and placed on a round shaped sugar with a lollipop stick. When you shake it you hear the sound that coming from inside the duck. It is presented with ribbons and tie. What a cute and unique gift idea!
Rubber duckie cake top decoration: $2.95 each
Rubber duckie rattle Giftwrap $5.95 each inquiry/order
----------------------------------------------------
SUGARWORKS, LLC Copyright © 2006, 2007 All rights reserved. Mon-Fri 9:00 am -5:00 pm