Illuminations
Our latest creations are "illuminations/light up". They will light up from inside the sugar creation. A small light bulb will slowly change colors from yellow, blue, and red in endless cycles. It will light up for several hours. They are just right for your Weddings and V.I.P Dinner parties.
Moroccan Lantern: size, 4.5" h x 3" w x 3" d As a table top accent for each guest, dessert plate/buffet table decoration, or guest room ammenity,etc... usages are endless. Whenever you need special presentation, adding memorable eye catching effect that is both amazing and beautiful.
Moroccan Lantern: $29.95 each Light w/ battery $1.50 each inquiry/order
3D Christmas tree: size 5" h x 2.5" d These Christmas trees are the most festive and popular item when Christmas comes around. As yoy see, there are countless colorful sugar ornments all around the tree. A yellow shiny star is on top of the tree. 3D tree comes in green or clear (frost). When illuminated from inside, you can enjoy multipul colors changing smoothly in endless cycles. (up to several hours per pair of batteries)
Christmas tree: $9.95 each Light w/ battery $1.50 each inquiry/order
---- Illuminations for other idea ----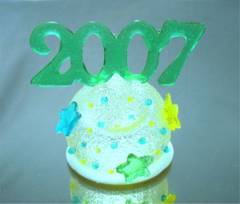 Happy New Year 2007: sphere size, 2.5" d x 2" h This special sugar creation was designed for a New Year's Eve dinner party. A clear sugar sphere is placed on a white sugar disk, and decorated with colorful mini stars and dots. A number "2007" can be any color, red, blue, yellow, etc and placed on top of the shpere.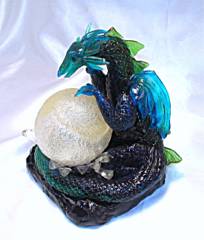 Dragon: This is a custom order as a surprise gift for special someone. The illuminating sphere will add romantic & magical moments to the Dragon, creature of Fantasy.
----------------------------------------------------
SUGARWORKS, LLC Copyright © 2006, 2007 All rights reserved. Mon-Fri 9:00 am -5:00 pm