Showpiece
When Max was a pastry chef, he made several showpieces using various sugar materials. They complemented great visual presentation to the dessert buffet. These showpieces are regularly used on buffet stations in restaurants, ballrooms, & banquet rooms throughout the year.
They are built to withstand strong shocks & vibrations during frequent transportation from room to room. In order to have durable showpieces for repeated use, well constructed supported materials are covered with sugar mixtures. Food colors were then applied by air brush to add a lifelike appearance completing the showpiece.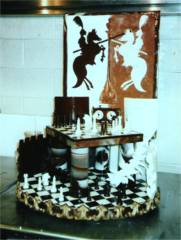 1. Chess size: 5' h x 3' w This piece was made for the World Chess Championship Tournament held at the World Trade Center in late 90's. Mr. Casparov succesfully defended his title again. It was made of dark & white chocolate with an image of inside the castle. After the celebration party was over, this showpiece was eaten up by those who attended - most of them are eastern Europeans - had too many drinks that night!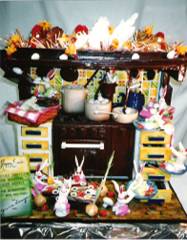 2. Easter size: 3' h x 2.5' w Instead of the usual giant Chocolate Egg display often seen at Eastertime, here in our kitchen, bunny chefs are in charge of decorating colorful eggs. Eggs are coming from hens at the top, each bunny is passing eggs from boiling to painting on the bottom floor. This display was used in the restaurant for Easter Sunday Buffet.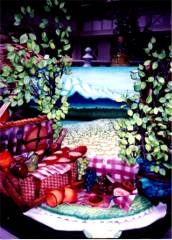 3. Picnic size: 3' h x 4' w City living sometimes misses the joy of having a picnic in nature, so why not have it everyday? This picnic basket, and its contents are made of pastillage (powder sugar mixtures). The napkin & leaves are fondant. The grass on the ground, & background scenary was royal icing. Actual tree branches were used.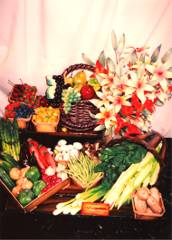 4. Farmers stand size: 3' h x 4' w There was a Farmers' Market held once a week at Union Square in Manhattan. Colorful fresh groceries are an ideal theme to create feelings of Summer. These vegetables, basket, & flowers are made of pastillage. Each fruit & vegetable was hollowed out thinly upto 1/8" thickness to reduce the weight of the showpice.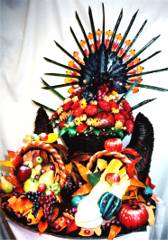 5. Thanksgiving size: 5' h x 3' w To display the harvest, the cornucopia on left is filled with fruits, and the one on the right one has various vegetables. Colorful autumn leaves & cranberries are all around, and flowers fill the basket. There is a wild bird artfully arranged on top. Pastillage, fondant, & royal icing are used for this sweet display.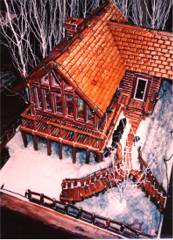 6. Ski lodge size: 2' h x 3' w x 4' d Freshly baked small pieces of ginger bread cookies are placed on the pre-assembled Ski lodge with royal icing, piece by piece. Snow on the ground is made of granulated sugar mixture that gives an frosty touch. Windows are of a transparent gelatine sheet, so that you can see the entire living room with set of furnitures, carpet & fire place. There is a Christmas tree with colorful light bulbs that actually light up inside!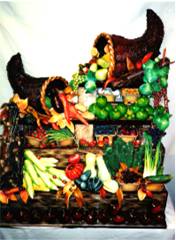 7. Fall farm stand size: 5' h x 4' w When you start feeling that Summer is soon over, it is the time for harvesting. At Farmer's Market, Union Square in New York ciity, there are so many vegetables, fruits, berries, tree nuts and even mushrooms with an autumn colored display. I realized again that hands are the best tool after all, they can shape most of items on display without using any molds or special tools.
8. Four seasons size: 4' h x 3' w From left, Spring, Early Summer, Mid Summer & Autumn. Trees are made of royal icing, and the leaves & flowers are pastillage. Real tree branches are used. The Blue & Red birds are made of sugar modeling paste. Since everything stays in sugar-white after it dries out, food colors are applied by air brush. Each showpiece is very lightweight & portable to carry around by hand from room to room.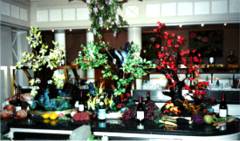 9. Four seasons in display size: 4' h x 3' w When any 3 of the above showpieces are put together, you can enjoy seeing seasonal changes of nature. They were displayed in order to add fresh colors & live feelings to the guests of the restaurant during Wintertime when skies are gray.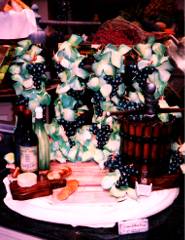 10. Wine press size: 3' h x 3' w When talking of wines, it never ends. I found it interesting that everyone has one or two stories about wines even he/she does not drink wine that often. Making a showpiece related to Wines is a great idea for restaurant, especially a wine press & wine barrel are excellent items to be made. These two pieces are switched every month for display.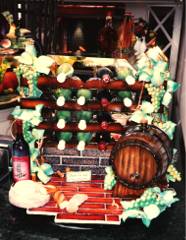 11. Wine barrel size: 3' h x 3' w This showpiece has a story to tell. One sunday brunch, in front of this showpiece one guest even asked a waiter for a fork & knife! When the server asked the guest why?, the reply was "I want a piece of this cheese." pointing to the left side of showpice! In fact, it did really look like a real cheese despite it being made of powdered sugar......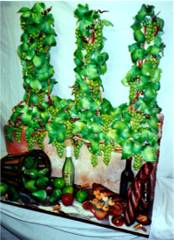 12. Grapes - white - size: 5' h x 4' w Above, these preceeding 2 showpieces were specially made to fit the tight space of buffet station at the restaurant. Following these 2 showpieces are made to be much larger in size for grand-ballroom use where thousands of guests can attend at the events.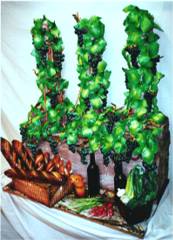 13. Grapes - red - size: 5' h x 4' w This piece is simlar to the one above but meant for red grapes. Most items - grape leaves, grapes, wine bottles, breads - are made of powder sugar mixture, then food colors are airbrushed on to give a life like appearance.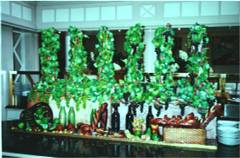 14. Grapes size: 5' h x 8' w When above two showpieces are placed together next each other, they will make an impressive 8' wide of wall of grapes with wine bottles, bread, fruits, etc. They were put together in the middle of buffet station in restaurant from Summer to Fall display.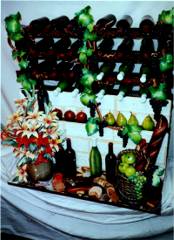 15. Wine bottles size: 5' h x 4' w When all wine bottles are put together, it will produce great impact as if you were standing inside the wine cellar. Because of its rather cold appearance, I added some colors of flowers & fruits around to soften up the showpiece. These wine bottles have thin shells of sugar and are hollow inside as well as pears & red apples.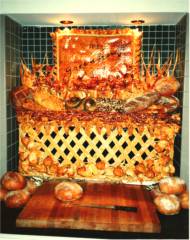 16. Bread display size: 4' h x 4' w Local bakers make excellent breads in various shapes & flavors. I thought if there is a small display made of bread, it would be fun for the bread station, because all you see there are just tiles on walls & a cutting board left unattended. Lattice work, grapes, leaves, pumpkin, Day-Lilies & bread board with restaurant logo are all made of bread dough, egg washed, baked, then assembled piece by piece.
17. Winter house size: 4' h x 10' w This one is not from a pastry kitchen, rather just having fun making a Winter white house for during holiday season through New Year's. Due to its large size, it was made of 4 pieces and brought to the location where it was assembled. The house was made of white foam board from free hand drawings. Windows are gelatine sheets & The Penguins enjoy skating on blue sugar-skating link at right. You can even see the house illuminated from the inside!
----------------------------------------------------
Here is an article of air brush process with photos, please click Air brushing food colors.
----------------------------------------------------
SUGARWORKS, LLC Copyright © 2006, 2007 All rights reserved. Mon-Fri 9:00 am -5:00 pm