Sea Shells
Various sea shells - made of sugar - in different shapes, colors & sizes are perfect item to enhance Ocean theam weddings & parties.
Sea shells: Various colors & sizes right: Large shell Great way to decorate Wedding cake & dessert plate.
---- Wedding keepsake & Party favors ----
Look a little closer at these beautiful sea shells and you will see why it is such an eye catcher. This elegant, realistically detailed sea shells are ideal choice for your next special event. They immediately capture the attention of anyone entering a room where they are presented.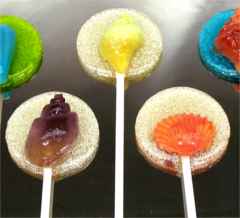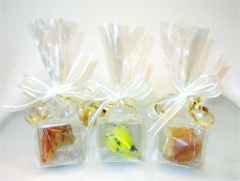 in a gift box with ribbons. Box size: 2" x 2" x 2" cube
Sea shell lollipop: $1.95 each. Shells for cake decoration: small-large $2.45 - $4.95 each
Sea shells for keepsakes: Box only $2.95 each Giftwrap $3.95 each inquiry/order
---- 3 Shells on beach ----
Left 3: Beach sand background. Right: in a gift box
Beach is a great place to feel refreshing ocean breeze, hear the sounds of waves, and picking up sea shells. Colorful 3 sea shells are placed on a thin sheet of sugar. As you can see it, it has various wave paterns in different colors, as if you are standing on a sandy sugar beach.
*Free Wedding Announcement, Happy Birthday + name, Custom Messages (Thank you, Congratulations, etc) can be printed on a label.
3 sea shells on beach: Box only $6.95 each Giftwrap $7.95 each inquiry/order
---- Shells on ocean floor ----
Left 3: Amber, Red, & Blue Anchor Right: in a gift box Box size: 3.5"w x 3.5"d x 4"h
Imagine that you are swimming ocean bottom and looking for something exciting to find. A glass like anchor is surrounded by colorful sea weed & sea shells. There will be no identical pieces are made because so many different sea shells, combinations are endless.
They are excellent & ideal novelty for your special occasion. Especially, since it's elegant appearance is distinctively unique.
Shells on ocean floor: $9.95 each in a gift box. *delivery only inquiry/order
----------------------------------------------------
SUGARWORKS, LLC Copyright © 2006, 2007 All rights reserved. Mon-Fri 9:00 am -5:00 pm