Price list
We use special sugar imported from Europe that resists humidity well and will not melt in your hands. In addition, it has only half the calories of regular sugar. We will make fresh to fill your order. Our weekly production schedule fills quickly, so please let us know in advance well ahead before your event for prompt delivery.
----- How to order & payment method-----
Please place your order/inquiry through e-mail, max@sugarworksllc.com including 1. Items with other requests such as Color selections, with/without Giftwrap, and Custom label/messages, etc 2. Shipping address. 3. Home telephone number. For payment, you will receive an email invoice from Paypal. We'll ship your order upon receiving payment.
----- Lollipops -----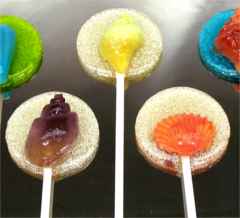 Sea shell Lollipop: $1.95 ea Various shapes and colors.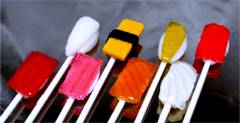 Sushipops: Tuna, Toro, Yellow tail, Halibut, Salmon, Herring roe, Squid $0.95 ea Tamago $1.95 ea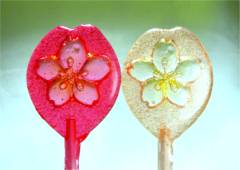 Cherry flower lollipop: Colors: Pink, Peach, Orange, Lavender, Rose, Clear $2.25 ea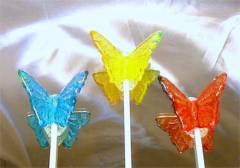 Butterfly Lollipop: Single color $1.25 ea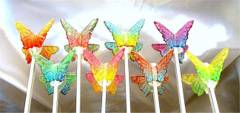 Bicolor/Assortment $1.45 ea
----- Picture Lollipops ----- *Printed with FDA approved edible inks on edible paper. $1.45 each if you order prefered design/designs. minimum orders apply.
Halloween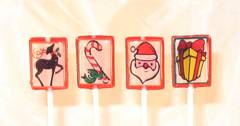 Christmas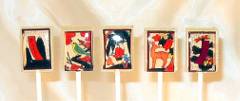 Hanafuda
x8 Halloween pack $9.95 x12 Christmas pack $14.95 x48 Hanafuda pack (Japanese Flower Cards) $59.95
----- For Cake decoration, Gifts, & Keepsakes -----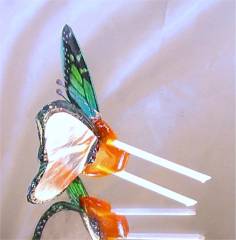 Butterfly $5.45 ea Ready for cake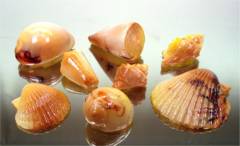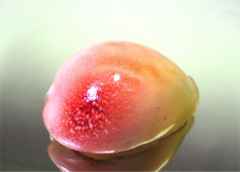 Sea shells $2.45 - $4.95 ea Small & large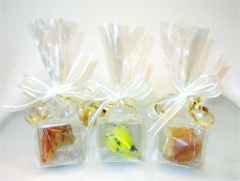 Giftwrap $3.95 ea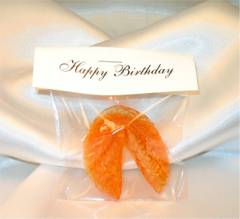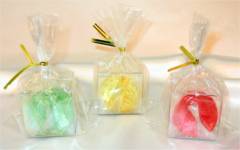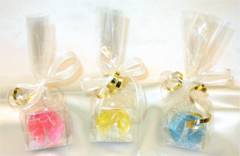 Fortune Candy left, Bag with label $1.95 ea center, Box with gold twist tie $2.95 ea right, Giftwrap $3.95 ea *Custom messages printed on Fortune, additional $0.25 ea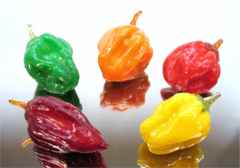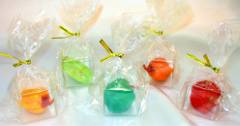 Chile Peppers $2.45 ea Box with gold twist tie $3.45 ea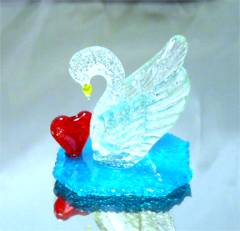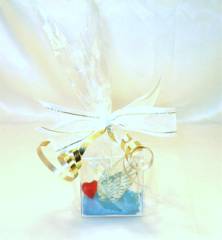 Swan and Heart Giftwrap only $4.95 ea
----- Small pillow case gift box -----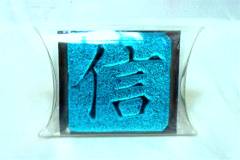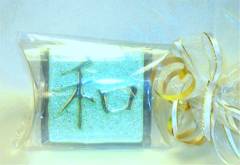 Japanese Kanji Letter Box only $2.95 ea Giftwrap $3.95 ea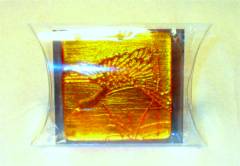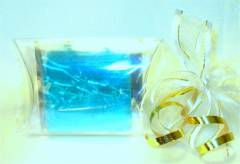 Traditional Japanese Designs Box only $2.95 ea Giftwrap $3.95 ea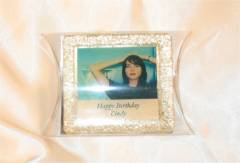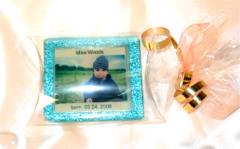 Photo Candy Box only $3.95 ea Giftwrap $4.95 ea *Minimum order 20 each
----- Large pillow case gift box ----- * Free Wedding Announcement, Happy Birthday + Name, Custom Messages (Thank you, Congratulations, etc) can be printed on a label and placed on the back of the board.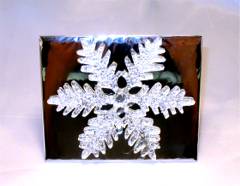 Snow Flake Box only $3.95 ea Giftwrap $4.95 ea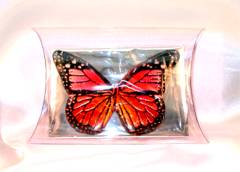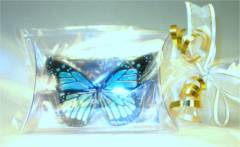 Butterfly Box only $4.95 ea Giftwrap $5.95 ea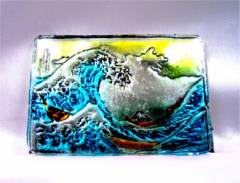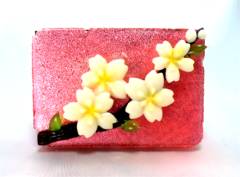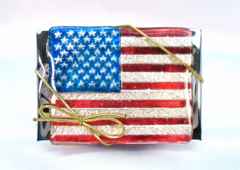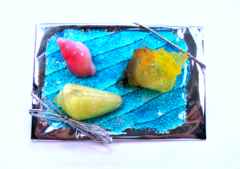 Ukiyo-e, Cherry Bloosoms, American Flag, & Sugar beach Box only $6.95 ea Giftwrap $7.95 ea
----- Holidays and Special events ----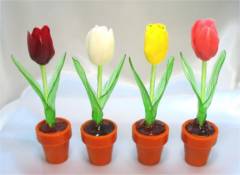 Tulips in pot $6.95 ea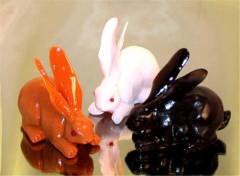 Rabbit $6.95 ea Brown, White, & Black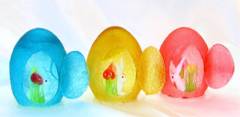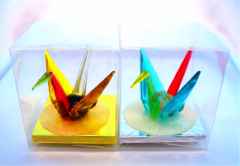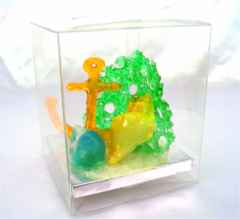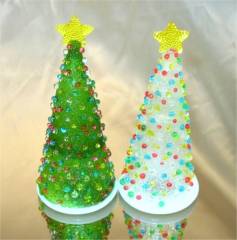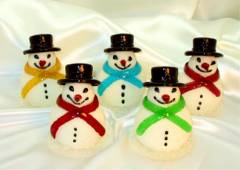 *Easter egg, Origami Sugar Crane, *Ocean Treasure, Christmas Tree, Snowman, $9.95 ea They are presented in a clear gift box. *Deliver only.
----- Sugar Garniture ----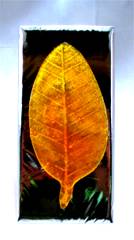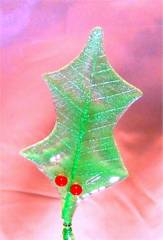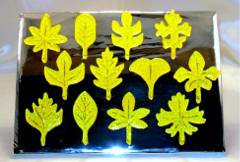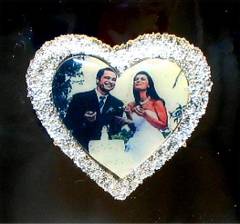 Autumn Leaves $0.99 Holly leaf $1.45 x12 Assorted Mini Leaves $8.95/pack Ribbons 5" $1.25 7" $1.45 8" x 1/4" in diameter $1.75 Any 2 colors combination Heart Garniture with photo $2.25 each *Minimum order 20 each
----- Other than sugar works -----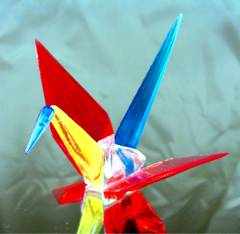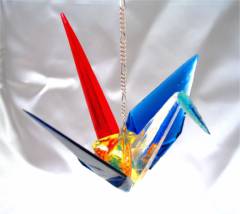 Origami Crane - Cast resin - Stationary $14.95 Ornament $19.95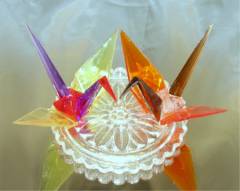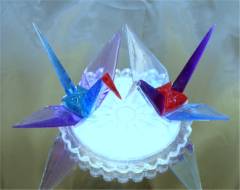 Wedding cake top: Clear $49.95 White Medallion in middle $59.95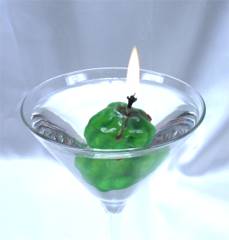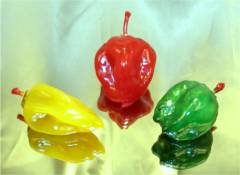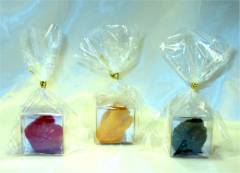 Floating Candles Box with gold twist tie $3.45 *Available in 3 colors.
----- Origami Sugar Crane Party attraction / Demonstration -----
We will customize a beautiful keepsake, made of hard candy, right in front of each guest. As a live entertainment, we make a custom keepsake for each guest per their individual preference right before their eyes ! Then each custom creation is placed in a gift box to take it home. What a novel way to impress your guests! Do not miss this - one of a kind - interactive live performance, book early to ensure availability for your event.
Custom keepsakes & Live attraction in one affordable price ! Origami Crane: $495.00 Tristate New York area only. Prices are based on 100 person / 3 hours. Plus tax & travel fees. Please contact us for more details.
----- Here's what our satified customers are saying -----
Denise "Max, Just a note to let you know we received the butterflies, and let me say that they are beyond our wildest expectations. You did a beautiful job, and I am very pleased with your work. Thanks again."
Pamela "I just wanted to take a moment and say thank you. The cake topper is absolutely beautiful and I will send you pics of the cake after the weekend (wedding)! "
Xiomy "Thank you so much for the sugar leaves you made for our wedding cake. The cake looked awesome with them. I will send you a picture as soon as it is available. Thanks again !"
Lauren "Hi Max, I just wanted to say that the Cherry flower lollipop and butterfly are absolutely beautiful!! Thank you so much for such fine craftsmanship =) I will definitely keep you in mind for other events, Thank you again !
Nancy "The butterflies are beautiful! I can't wait to see them on the cake! Thanks for everything."
Jennifer "I love the origami (crane). It will look great. Thank You so much."
Katrina
"Thank you so much for the beautiful butterflies. I have attached some
pictures
of the wedding cake. The butterflies were lovely. My grandson still talks about taking the butterflies from the cake and eating them. People who could not attend, but see the photos, ask me why butterflies (thinking they were live lepodoptra) were attracted to the cake - a compliment to you and your artistic talent."
Dory "I just wanted to let you know I received the shushipops today. They look great! I can't wait to share them with friends! It was a pleasure doing business with you! Thank you!"
Connie "Max, Got your sugar creations last night. They are beautiful. We looking forward to using it on the grooms's cake. Thanks!"
Carol "I arrived home today and found your package on the front porch. It arrived safely and in perfect condition. You packed it perfectly. Upon opening the package, I was so pleased to see all the exquisite Kanji Letter gift boxes and equally exquisite samples. -- Thank you again Max, as my daughter's bridal shower will have an extra ellegance to it with your very special created works of art. Please enclose my gratitude to all future customers. " .........
" Thanks to you, you added such an exquisite personal creation to my daughter's bridal shower. Each guest received a favor and they were totally taken with your art work. I assure you, Max, you have a customer in the future. Thanks, again, so very much,"
Cynthia "Hi Max! I wanted to let you know that I receive the wedding cake topper and it is beautiful! Thank you so much for sending it to me so quickly. I think my fiancee will be surprised!"
Barbara "Max, The cake topper arrived yesterday - it is lovely! Thank you - I wish I knew you made them last year for my son's wedding cake. But they have it now - in a special spot and will cherish it. I will tell others of your work."
----------------------------------------------------
SUGARWORKS, LLC Copyright © 2006, 2007 All rights reserved. Mon-Fri 9:00 am -5:00 pm